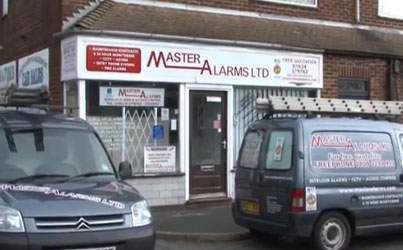 "Master Alarms are here to make you feel safe and secure."
Master Alarms Ltd are a security company in Gillingham, Kent, set up over 37 years ago. Master Alarms offer a professional installation service providing intruder alarms, fire alarms, access control systems and CCTV, Gillingham.

When it comes to installing intruder alarms, Gillingham, Master Alarms will create a bespoke system that will meet your exact needs. They take pride in all their work so will always make sure to install the system to the highest of standards. They will even offer follow up servicing and repairs to your alarm systems so you will be able to ensure that your security system is always in perfect working order.

In addition to the intruder alarms that Master Alarms install they also fit fire alarms, Gillingham, alongside emergency lighting so you can ensure that your business or home is as protected against fire risks.

As businesses grow it becomes increasingly difficult to keep an eye on who comes and goes within your business; with Master Alarms they will ensure that you have access control, Gillingham, that will allow you to track who is within the property helping to protect your assets by making sure only authorised personnel may enter.

If you are looking for a CCTV installer in Gillingham then Master Alarms can help with both domestic and commercial applications. CCTV is a great visual deterrent to any criminals, helping minimise the chance that you become a victim of crime. So if you are looking for a security company for Gillingham why not contact Master Alarms Ltd today?